Mon, 1 April 2013
Plato's Cave - 1 April 2013
Promised Land, Rust and Bone and The NeverEnding Story (classic) are reviewed. With Thomas Caldwell, Tara Judah and Josh Nelson
---
Sun, 31 March 2013
Dirty Deeds - 31 March 2013
Digga and Laurel discuss their gardens, Easter and growing garlic, a culinary favourite. The also give advice to callers on a range of horticultural topics ranging from Japanese Maples to Ballerina Apples.
---
Sun, 31 March 2013
The Architects - Show 361 - RMIT Design Hub
We play our show recorded today from RMIT DESIGN HUB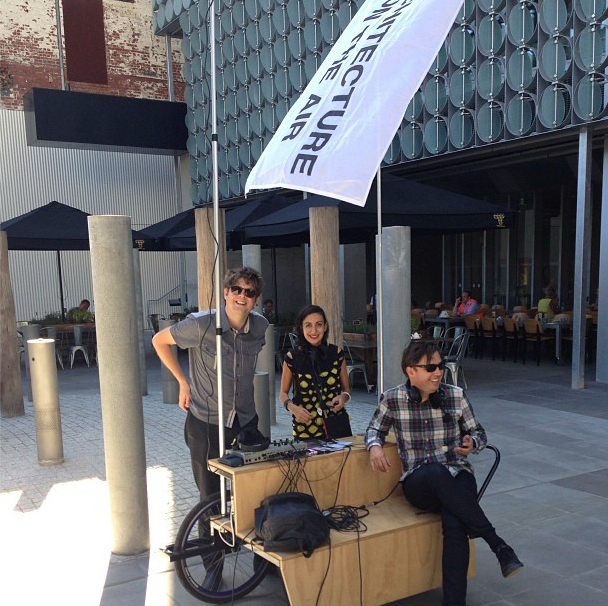 We speak with
Fleur Watson and Timothy Moore
and
· Last week was AAAA in Canberra, Peter Wilson got the Gold Medal, Clare Cousins national emerging…Corro education prize, JOHN BYLEVELD -The Student Prize for the Advancement of Architecture
· Peter Corrigan exhibition coming up 12th April RMIT Gallery (Storey Hall)
· RMIT Design Hub, level 3- DRI Design Challenge: Ageing Exhibition, Opening night Thu Apr 4th6pm
· Michelle Hamer exhibition opening coming up 11th April, I SEND MIXED MESSAGES, Counihan Gallery.
· Dulux Colour awards were announced last week: Bird De La Coeur were the big winners for Atherton Gardens, also Edwards Moore, MGS, Studio 505
---
Sun, 31 March 2013
Radiotherapy 31 March 2013
Failing to take their religious observances seriously, the doctors are in on this Easter Sunday to revisit the movie Alien, discuss mobile stroke units and Telehealth, this week on Radiotherapy.
---
Sun, 31 March 2013
Radio Marinara 31 Mar 2013
Dr Surf speaks with 7 times world surfing champion Layne Beachley about the National Surf Reserves Program, and the recent events at Phillip Island. Plus a discussion on the ongoing parking and access problems at Bells Beach between large tourist buses and surfers. Dr Beach talks with Steve Howden, aka Captain Windshift, live from the Flying Dutchmen regatta in Gippsland, about the Little Boat Shipping News. And the latest marine news, weather and a special Easter dose of grumpiness from the good Doctors of the Sea.
---
Sat, 30 March 2013
Radiotherapy 24 March 2013
This episode of Radiotherapy sees the team chat about developments of the United Nations' millennium development goals, and specifically at how the goals are attempting to reduce malaria around the world. They also take a look at Dr Rad's current journey into her medical internship, and look into the medical aspects of the movie Amour (with spoiler alerts).
---
Fri, 29 March 2013
Byte Into It - 27 March 2013
---
Thu, 28 March 2013
Breakfasters - 25-28 March 2013
On this week's episode Fee Stew and Lorin talked to Melbourne Uni statistics and political economy lecturer Mike Pottenger who explained how economics can help 'future you' win, by betting against yourself in the present. Comedian Mike Birbiglia told us how he got to telling stories for a living, and how sometimes words don't translate and accents aren't so funny. Sean Dooley spread more bird-wisdom, and Stew told us about why he wasn't overly pleased to hear his Dentist say he has a beautiful mouth.
---
Thu, 28 March 2013
ZERO-G EPISODE: #917 25 March 2013
Zero G #917 MARZIPOD

Science Fiction, Fantasy and Historical Radio with Rob Jan. This week: Jack the Giant Slayer, we farewell horror writer James Herbert and Marzipan the Astor Theatre cat, and more!

For playlists, show notes, the T.V Geek and news see the 3RRR website at http://www.rrr.org.au/program/zero-g/playlists and follow @zerogrobjan on Twitter.

Subscribe via the iTunes store here.

Zero G broadcasts live from Melbourne Australia on Mondays at 1pm AEST on 3RRR (102.7FM). To stream or to find out more, go to http://www.rrr.org.au
---
Thu, 28 March 2013
Right Now Radio - 28 March 2013
On this month's Right Now Radio podcast, we speak with John Tobin about the new National Children's Commissioner's commencement, as well as feature an exclusive interview with the world's pre-eminent human rights lawyer, Kenneth Roth, Executive Director of Human Rights Watch. As usual, Rach and Ben cach up on the latest human rights news and take a look at what's happening on the Right Now website.
---