Sun, 14 October 2012
Einstein A Go Go - 14 October 2012
This week the team crawl out from under their lab equipment, travel across town and broadcast live from the Australian Synchrotron in Melbourne. With guest a-plenty, Dr Shane, Dr Krystal, Dr Lauren, ChrisKP and Andrea discuss powder X-ray diffraction, using the Synchrotron to analyse and identify images, geopolymer cement development and investigating ways of improving the long-term stability of carbon storage in minerals.
---
Sun, 14 October 2012
Dirty Deeds - 07 October 2012
Olive, Huen and Digga host Patirck Honan, Manager Live Exhibits at Melbourne Museum. Together they discuss their gardens, insects in the garden and give advice to callers. A must listen episode!!
---
Sun, 14 October 2012
The Architects - Show 346 - Searle x Waldron Architecture
NICK SEARLE and SUZANNAH WALDRON of Searle x Waldron Architecture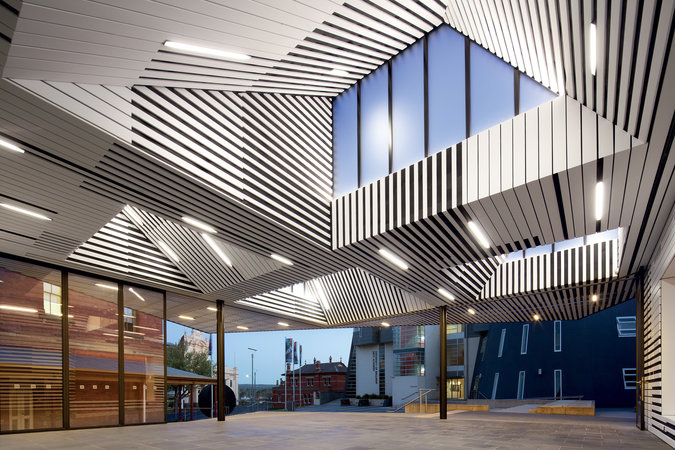 image aboveL Ballart Art Gallery by by Searle X Waldron, photo by John Gollings
Callum Fraser on the phone talking KLIK pre-fan housing
NEWS

• Live Projects: Designing with People, a book hot of the press that she edited with Fiona Harrison and Esther Charlesworth; being launched this Friday (Book Launch Live Projects: Designing with People, edited by Mel Dodd, Fiona Harrison and Esther Charlesworth, 5.30pm October 12, RMIT Design Hub, Rooftop Pavilion 4)
• Australian Architects Triumph at World Architecture Festival Awards winning eight out of thirty-three categories including The Royal Children's Hospital, Melbourne by Billard Leece Partnership and Bates Smart took out the Completed Building – Health category, The Shearer's Quarters, Tasmania by John Wardle Architects won the 'World's Best Villa' Award in the Completed Building – Villa category, Darling Quarter, Sydney by Francis-Jones Morehen Thorp (FMJT) was awarded the top prize in the Completed Building – Offices category.

EVENTS
• REFUEL Monday Night Talks: Monday 15 October 2012 @ 6pm @ the Melb Uni Baldwin Spencer Building 113, Ground Floor Student Lounge, Design ideas by diagram – 10 concepts for community with Michelle James (Here Studio), Simon Knott, BKK, on the Revitalising Dandenong masterplan, Neville Cowland, NOW Architecture, on Meadows Primary School, chair Tania Davidge. www.refuelvictoria.com
• Second of the OpenHAUS What is… series this Sunday leading up to MAA: What is the role of Ornament in contemporary architecture: Sunday 14 October, 2.00pm, Middle Park Bowls Club, debate starts at 2.15pm sharp, entry by gold coin donation. www.openhaus.org/whatis/ (Whibley, Minifie, Edwards, Mcleod, Green, Bertram)
• Many other events as part of MAA – Mon 22nd – Sun 28th Oct www.melbournearchitecture.org
• John Andrews Symposium and Public Lecture, Saturday 20 October, 9.30am, Hercus Theatre, David Caro Building, Melbourne University
• Jan van Schaik, of Minifie van Schaik Architects, will discuss the making of the Wattle Avenue House in regional Victoria with his clients, renowned chef Stefano de Pieri and his partner in work and life, Donata Carrazza. Presented by Houses magazine, Our Houses is a series of events that looks beyond the finished house to explore and demystify the ways architects and their clients work together. Date: Thursday 25 October 2012 Time: 6.00–7.30pm Venue: Treasury Theatre, 1 Macarthur Place, East Melbourne Cost: $27.50, including entry and the current issue of Houses, which features Wattle Avenue House.
---
Sun, 14 October 2012
Radio Marinara - 14 Oct 2012
Dr Surf will talks hand crafted wooden surfboards with Rob Ivers of Tree-To-Sea, who run workshops each month on making a wide range of hollow paulawnia boards - from tiny fish to longboards. We'll cover the basics on how to make a board, plus a discussion on the wooden board movement in Australia and the back to basics attitude behind making your own boards. Maybe it's a reaction to the mass-production of boards from petro-chemicals, or simply a desire to build a board yourself, either way it's a fascinating sub-culture within surfing that we will explore.
Also surf news, including an update on the Pt Leo Vintage Surf Day coming up in November.
Dr Beach is in the house with the latest and greatest wet 'n salty weird science.
And Jeff Maynard is in with some classics from his stash of oceanic movies and docos of yesteryear.
---
Sun, 14 October 2012
Radiotherapy 14 October 2012
Tune in to the doctors coming to you live from the Australian SynchRRRotron open day in Clayton. The team is joined by a panel of guests to bring you unique insight into this world-class scientific research facility.
---