Sun, 16 September 2012
Einstein A Go Go - 16th September 2012
Hay fever vaccine for grass pollen, Combining PET scanning and MRI medical imaging technology for better resolution, the internet addicted and their genetic mutation, ants behaving like TCP/IP protocol, biomimicry and architecture, the great pacific garbage vortex, lips that could ruin your poker face! your emotions told through the body language of lips, your facebook profile picture and how the world might perceive you, IBM releases images of graphine.
---
Sun, 16 September 2012
All Over The Shop - 13 September 2012
The usual jittery tom-tittery, and maybe one word that rhymes with those, as Stew and Larry plumb the lowest reaches of the entertainment barrel, just the way you like it. Plus impressions, as Stew and Larry recreate both the typical AFL coach's press conference, and also student news broadcasts. A resounding blow struck against radio.
CLASSIFICATION WARNING – You know the drill. Poo language and poo concepts. All these biological references degrade the presenters, they degrade the listeners, and are thus completely biodegradable. Or something.
---
Sun, 16 September 2012
The Architects - Show 342 - Venice Architecture Bienalle Coverage
Our coverage of the 2012 Venice Architecture Biennale continues this week, with our interviews with the exhibitors in the Australian Pavilion
Richard Goodwin, Artist and Architect
Supermanoeuvre, Dave Pilgram and Chris Duffield
Maribor 2112Ai, Tom Kovac and Fleur Watson
Archrival, Claire McCaughan and Lucy Humphrey
HeathHabitatat, Paul Pholeros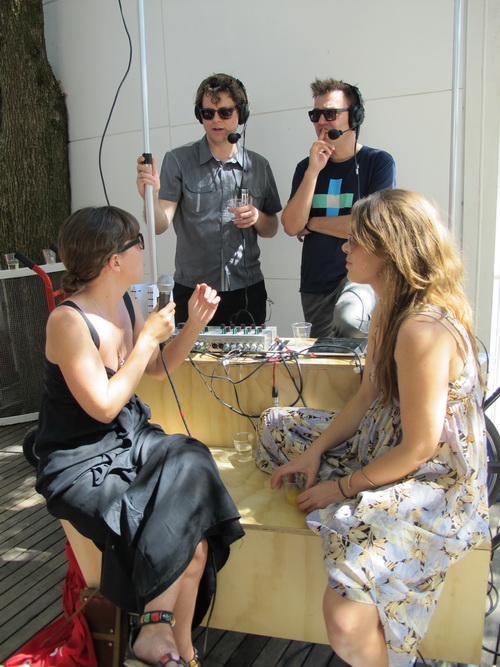 above: we interview Claire McCaughan and Lucy Humphrey from Archrival, at the Australian Pavilion in Venice.
---
Sun, 16 September 2012
Radio Marinara 16 Sept 2012
We catch up with Leo op den Brouw from Bastion Point on the latest developments in the most crucial stage of this long long slog of a campaign.
From Queenscliff - some breaking and disturbing news about big cuts to the Fisheries Research program and team, with the announcement that half of the Fisheries science positions will go. We will explore what this means for our future knowledge of fisheries, and especially what this means for ecosystem based fisheries management in Victoria.
And finally, during Radiothon, Jeff Maynard brought in a heap of tracks from Megashark vs. Crocosaurus, but left a few questions unanswered. So for everyone terrified thinking that a giant shark might still be roaming the Pacific, and that San Franciscians are still being stomped by a huge prehistoric crocodile, Jeff has the answers. Can a shark swallow a nuclear submarine? Is the Panama Canal big enough for crocosaurus to lay its eggs? Will the world survive? Can Jeff work that great palindrome into a Radio Marinara broadcast? A man, a plan, a canal, Panama?

All these answers will be provided Sunday morning. We hope.
---