Sun, 14 October 2012
The Architects - Show 346 - Searle x Waldron Architecture
NICK SEARLE and SUZANNAH WALDRON of Searle x Waldron Architecture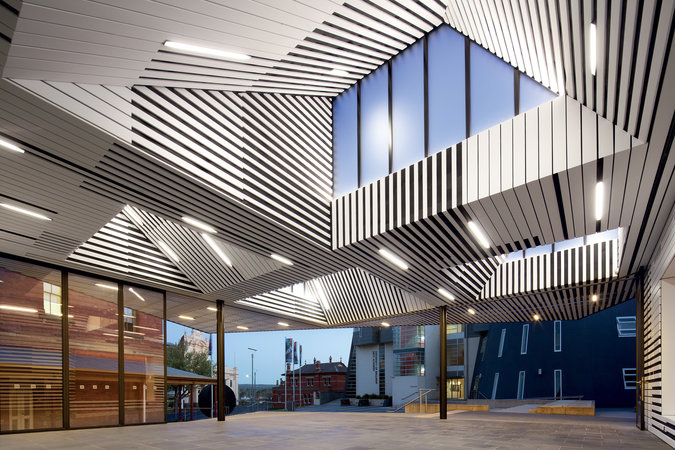 image aboveL Ballart Art Gallery by by Searle X Waldron, photo by John Gollings
Callum Fraser on the phone talking KLIK pre-fan housing
NEWS

• Live Projects: Designing with People, a book hot of the press that she edited with Fiona Harrison and Esther Charlesworth; being launched this Friday (Book Launch Live Projects: Designing with People, edited by Mel Dodd, Fiona Harrison and Esther Charlesworth, 5.30pm October 12, RMIT Design Hub, Rooftop Pavilion 4)
• Australian Architects Triumph at World Architecture Festival Awards winning eight out of thirty-three categories including The Royal Children's Hospital, Melbourne by Billard Leece Partnership and Bates Smart took out the Completed Building – Health category, The Shearer's Quarters, Tasmania by John Wardle Architects won the 'World's Best Villa' Award in the Completed Building – Villa category, Darling Quarter, Sydney by Francis-Jones Morehen Thorp (FMJT) was awarded the top prize in the Completed Building – Offices category.

EVENTS
• REFUEL Monday Night Talks: Monday 15 October 2012 @ 6pm @ the Melb Uni Baldwin Spencer Building 113, Ground Floor Student Lounge, Design ideas by diagram – 10 concepts for community with Michelle James (Here Studio), Simon Knott, BKK, on the Revitalising Dandenong masterplan, Neville Cowland, NOW Architecture, on Meadows Primary School, chair Tania Davidge. www.refuelvictoria.com
• Second of the OpenHAUS What is… series this Sunday leading up to MAA: What is the role of Ornament in contemporary architecture: Sunday 14 October, 2.00pm, Middle Park Bowls Club, debate starts at 2.15pm sharp, entry by gold coin donation. www.openhaus.org/whatis/ (Whibley, Minifie, Edwards, Mcleod, Green, Bertram)
• Many other events as part of MAA – Mon 22nd – Sun 28th Oct www.melbournearchitecture.org
• John Andrews Symposium and Public Lecture, Saturday 20 October, 9.30am, Hercus Theatre, David Caro Building, Melbourne University
• Jan van Schaik, of Minifie van Schaik Architects, will discuss the making of the Wattle Avenue House in regional Victoria with his clients, renowned chef Stefano de Pieri and his partner in work and life, Donata Carrazza. Presented by Houses magazine, Our Houses is a series of events that looks beyond the finished house to explore and demystify the ways architects and their clients work together. Date: Thursday 25 October 2012 Time: 6.00–7.30pm Venue: Treasury Theatre, 1 Macarthur Place, East Melbourne Cost: $27.50, including entry and the current issue of Houses, which features Wattle Avenue House.
---